The needs of South Carolina's ECE professionals vary, and SC CCR&R trainings reflect that. Our trainings can fulfill DSS credit hour requirements, function as part of a customized development plan, or help you with questions or needs specific to your program. Just like all of our otherservices,training and coaching are completely free of charge and available statewide.
---
To view and/or register for any of SC CCR&R's upcoming trainings:
Go to registry.scendeavors.org (find registration for conferences below)
Look in the left sidebar for a search option titled

Sponsor Name

.
In the text box underneath Sponsor Name, type our name, 

South Carolina Child Care Resource & Referral

,

exactly

as it is typed in this sentence. 

Include the "&" (ampersand) symbol.
Use no acronyms or abbreviations.
Double-check for typos and misspellings.

Press the  button at the bottom of the sidebar.
Click here for a PDF illustration of these instructions
Click here for more information about SC Endeavors. 
Upcoming Conferences
Upcoming Trainings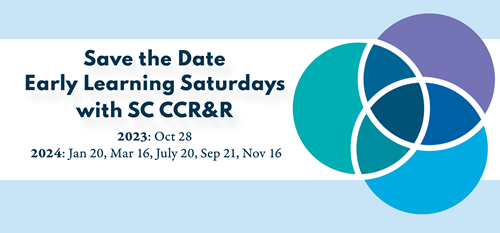 Please join us on October 28th, 2023, from 9:00 a.m. to 11:15 a.m. to receive two training credits. The two hours will feature two different training sessions as well as a 15-minute break. 
Sessions to include topics such as Dual Language Learning, Including Nature in the Classroom, Encouraging Family Engagement, and more! 
Registration will follow soon.